Let me know what you think of the website by clicking on
Weather Information Page 4
Weather&Climate uk.sci.weather WeatherWorld COL The Weather Outlook (TWO) WXForum.net Weather discussion groups (some require registration) Weather Info
Met Office Weather&Climate News Ddigital Archive Vine Youtube News Releases Events Vacancies Pinterest Videos Podcasts MO Sci Twitter Open Days
Met Office E-mail notifications
Oregon Scientific For weather instruments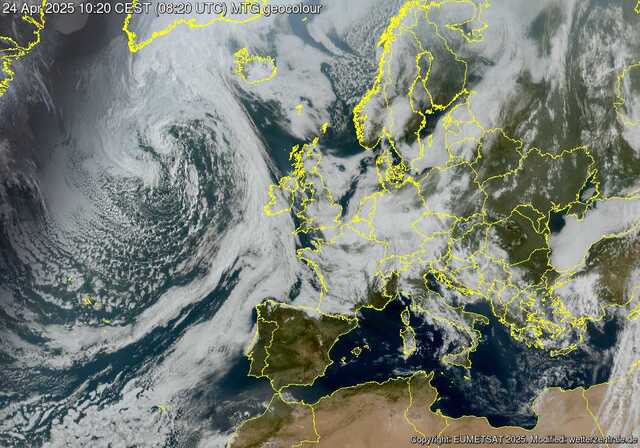 Chart above shows the latest MET9 Infra-red Satellite image from Wetterzentrale
Chart below shows dust concentration near ground from Athens University
Exeter weather forecast.
1. WeatherNews - WNI 2. Met Office 3. Metcheck 4. WeatherQuest 5. WeatherNet 6. British Weather Services (J.Kettley) 7. WeatherOnline 8. Accuweather 9 WeatherWeb (WCS) 10. MetDesk
11. WeatherPro 12. WeatherAction 13. AMI/Weather3000 14. NetWeather 15. MetraWeather 16. TWC
Health Warning
Sources of meteorological information on the Internet are not guaranteed and therefore must not be relied upon. Many of the links given here are provided by Universities which have no operational requirement to ensure that the information is up-to-date. Also, the information provided by the National Meteorological Services, such as the Met Office, via the Internet is not part of an operational service.
You are reminded that the Internet is not part of an operational system. ISPs can and do take their systems off-line for maintenance with no prior warning. In particular, the system should never be relied upon for information. Many sites provide information that has copyright restrictions and, in general, the information must not be used for commercial gain unless permission has been obtained either from the Meteorological Service concerned or from the provider of the information. All links are believed to be correct as at the date at the top of the page Thank you for visiting this site. If you have any comments then please click on the icon
Links/Downloads Photos DVDs/CDs/Books Cinema Cams TV/Radio Travel News